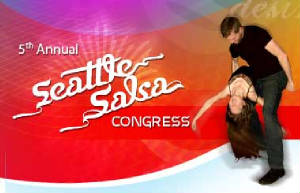 The Fourth Annual Seattle Salsa Congress is 3 days and 3 nights of fun and excitement. This year we have assembled a dream team of instructors, a 10-piece band, and outstanding DJs. We have something for everyone. During the day we offer dance workshops. For absolute beginners to advanced beginners, our Bootcamp is taught by Edie, The Salsa Freak who has received many awards at numerous congresses around the world. And for intermediate to advance dancers, we have workshops from some of the most qualified international instructors. During the evenings, we have live dance shows, a 10 piece live band, and performers from around the globe will unite to share their passion of Latin dance with you.
Come join us at The Hilton-Seattle Airport, November 26, 27, 28, 2010. Thanksgiving Weekend will never be the same. You're feeling the beats, catching the rhythm, and meeting new friends. The countdown has officially begun.
SuperSones
Friday, July 30th
Crossroads Bellevue
Eastside casineros!! We'll have the quintet on the bigstage at crossroads. We'll play 2 long sets at this all ages concert venue.
Time: 7:00-9:30
Saturday, July 31st
Selena's Guadalajara
1715 N 45th St. in Wallingford
Come join the SuperSones septet for a full night of dancing at Selena's. DJ Baracoa will be spinning hot Latin dance music before, between and after sets of Son Cubano Tradicional.

wednes

day july 21 from 10:00pm to 1:00 am

babalu in wallingford.

come join cambalache for a biweekly jam session. we will feature a small version of the band plus guest musicians from seattle's best bands

1723 North 45th Street

Seattle, WA 98103

Lastly, listen to

KBCS 91.3 FM

on Saturdays for 4-6pm Sabor and 6-8pm A Lado Latino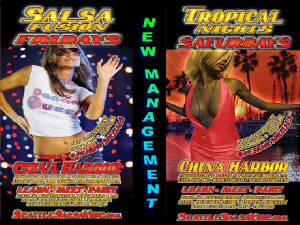 HOT SALSA NIGHTS
at the NEW CHINA HARBOUR

WEEKEND SPECIAL
(July 16-17th)
**************************
LADIES FREE B4 10:30PM
2 FOR 1 B4 11PM
with a mention of this promo or a pass